Notice: Department Status (COVID-19)
The Florida Institute of Government is currently operating remotely. To help us serve you in the quickest and most efficient way possible, please email questions to info@iog.fsu.edu. Please call (850) 487-1870 for payment assistance. For your convenience, our Online Courses remain available for registration. For additional information or changes regarding FIOG's operational status, please reference https://alerts.fsu.edu/.
Bridging the Distance: Sustaining Team Engagement
Sustaining Team Engagement
Date/Time
August 26, 2020, 2:00pm EDT
Credits Available
IIMC:
This course is available for .75 CMC education or .75 MMC advanced education credit; completion of required learning assessments are required to receive IIMC credit.
Contact 

Amy Brewer

 for more information
(Note: Most organizations will award credits for our class if you send them the information the organization requires to meet their credentials for continuing education credits.)
Bridging the distance with the team without being physically close, managing a variety of virus prevention interpretations, and addressing tensions by turning potential confrontations into conversations are all part of the ever-changing workplace. How can you strengthen your team and navigate this unchartered territory together? Join us for this session and: 
Learn how to manage personal emotions and not internalize other's emotions 
Find respectful ways to keep your distance while keeping connected 
Learn verbiage to use when tensions are rising and a clash seems inevitable 
Note: This series is available as 3 standalone webinars or as a full series.   For more information on the full series, please click here.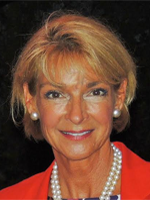 Libby Anderson, M.S. SPHR, TalentForce Solutions
Libby Anderson M.S., SPHR is President of Human Resources Now and the Southwest Florida Employer's Association. With 25 years experience, she focuses on providing top quality Human Resource consulting and customized training and development. Libby holds a Master's Degree in Human Resource Development and Administration from Barry University, where she is also certified as a Senior Professional in Human Resources. As an accomplished author and keynote speaker, Libby Anderson is often sought out for Human Resource programs. She is a past President of the HR Florida State Council, the state affiliate of The Society of Human Resource Management.  Libby's mission is to provide immediate and tangible outcomes by focusing on results and relationships. She has a diverse background consulting with companies ranging from hi-tech manufacturing, healthcare and specialty retail to hospitality, public sector and non-profit entities.