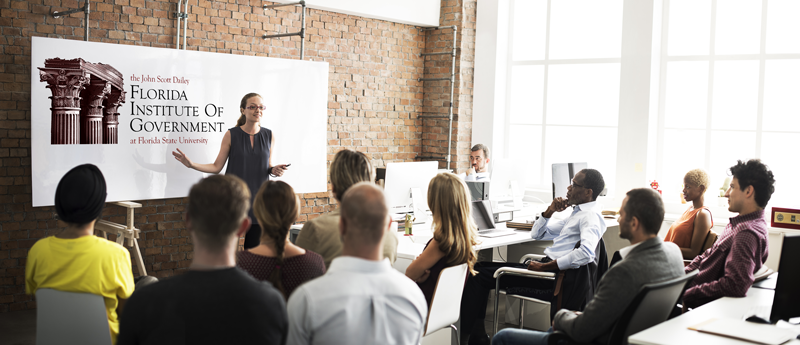 This 3-part series launches a new Florida Institute of Government initiative to discuss current workplace concerns and ways to improve employee productivity and promote a safe and balanced work environment. Top experts review state and federal laws, provide real-world examples and case studies, offer findings from current research, and share personal experiences to make these sessions practical, informative, and relevant to everyone working in government.
Registration:
The "Critical Issues in the Workplace" webinar series will be available individually for $60, or as a series for $150.  
To register for the full series, please click the Gold "Full Series Registration ($150)" button.  
If you would like to register for a single course à la carte, the Red "Single Course Registration ($60)" buttons are located within each of the pages below.
Credits Available:
Complete 3-Part (4.5 Hour) Critical Issues in the Workplace Series Credit:
IIMC (with required assessment):

0.75 CMC Experience
0.75 MMC Advanced Education Points

 5.5 Florida BAR Association Credit
Individual Course Credit:
A certificate with 1.5 hours of credit will be provided upon completion of the course.
IIMC:

All 1.5 hour courses are available for 0.25 CMC/MMC credits; a minimum of 0.50 (two 1.5 hour classes) with required assessments are required to receive IIMC credit.
Contact Amy Brewer for more information
title-inside title-centered
2