The goal of the Certified Government Chief Information Officer and Certified Public Technology Manager programs is to provide public sector and non-profit technology professionals with educational networking and collaboration experiences that will enhance their ability to serve as leaders in their communities and in the state.
The Certified Public Technology Manager (CPTM) program gives participants the tools needed to manage people and projects, building upon existing technical expertise. This program is designed for those who wish to enhance the leadership skills needed for current or future responsibilities, or it can be used as a first step toward the CGCIO certification. The program is designed to meet the needs of managers in all local government jurisdictions. The Certified Government Chief Information Officer (CGCIO) program is designed to give participants the skills and knowledge to address organization, governance, management and strategic planning issues from the executive leadership perspective.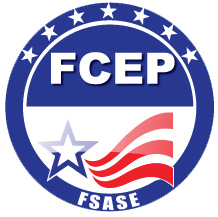 (Florida State Association of Supervisors of Elections)
The nationally-awarded FCEP program, organized by FSASE, provides Florida elections officials, their staff, and vendors the opportunity to receive additional election education on topics such as voter registration, media relations and election workers, to name a few.
The FCEP mission is to provide and support continuing education and certification programs that encourage the highest level of professionalism.
In 2015, the FCEP program was awarded the Professional Practice Award from the Election Center and in 2016, the FCEP program was awarded the Eagle Award from IGO.

The Florida Association of Code Enforcement (F.A.C.E.) was established to study and advance the science and practice of code enforcement statewide through training, certification and the exchange of ideas, information and techniques. In cooperation with the John Scott Dailey Florida Institute of Government at the University of Central Florida, F.A.C.E. has developed a comprehensive professional development program consisting of four levels. Each level requires completion of a course and an exam. Only Level IV has a required physical component. A listing of all current courses and exam schedule can be viewed by visiting the F.A.C.E. Calendar. Current courses available through the Florida Institute of Government at FSU can be viewed here.
Training & Professional Development
The John Scott Dailey Florida Institute of Government is dedicated to providing lifelong learning and continuing education opportunities for government officials, personnel, and communities throughout the state. Participants in the Institute's educational programs can earn continuing education units to achieve or maintain the certification status, mandatory for certain government offices.
All of the Institute's programs can be customized to address your agency's specific needs and can be offered at your site as an added benefit to your staff. The John Scott Dailey Florida Institute of Government will work closely with you to provide the highest level of service and customer satisfaction.
Programs currently offered statewide include:
Organizational Conflict
Leadership and Supervisory Skills
Group Dynamics/Team Building
Creativity, Problem Solving and Decision Making
Communication and Customer Service
Public Speaking and Presentation Skills
Executive Leadership
Ethics/Workplace Values
And many others!
Our curriculum developers can also create customized programs on any topic for in-person or online delivery.