Online Training
24/7 Learning Community
Our 24/7 Online Learning Community is available whenever, wherever you're ready to learn. Access to these courses is open 24/7, and you can work on your own pace. Most of our live webinars will be made available through the 24/7 Learning Community after their live recording.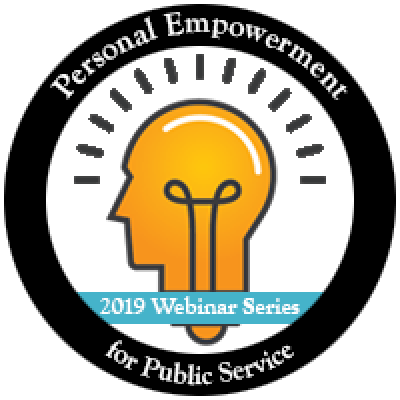 Can you hear the sigh when someone says they have to go to any government office? Do you sometimes feel the same way when you think about going to work? Rekindle your passion for public service with this webinar series designed exclusively for YOU, the often overlooked and overstressed public servant. We know that interacting with others can present challenges, particularly if you are dealing with people who are tired, frustrated, or feeling unheard and uncared for. This webinar series will provide you with proven tools and strategies to enhance your organization's service levels in ways that both empower you and honor those you serve. Make your organization a place where you enjoy working and others enjoy visiting!
Register Today! Registration Deadline Extended Through August 29th!
title-inside title-centered
2
Webinars
October 1, 2019, 2:00pm EDT
October 3, 2019, 2:00pm EDT
November 21, 2019, 2:00pm EST
Online Courses
The "4-Hour Ethics Course" meets the Legislature's mandate that Elected Officials must have two hours of Ethics Law, one hour of Sunshine Law and one hour of Public Records training annually.
Are your meetings out of control, lengthy, confusing? Parliamentary procedure is a useful tool for conducting meetings, assuring fairness, and completing business in an orderly manner.
Civility is a larger factor in workplace productivity than you may be aware of!
There has been an ever-increasing amount of national attention focusing on the issue of bullying, harassment, and incivility in the workplace.
Sexual harassment claims and other workplace complaints are on the rise in Florida and across the country.  Labor and employment attorney Keith L.